Yup! Outing again 2day! Dkt area Klang je. JJ Bukit Raja. 1st ting in da morning me, mum,
sis n older sis gi tgk wayang. Ngangkung n Harry Potter. Well...compare Ngangkung to JPBC2,
Ngangkung lg besh! But Harry Potter & Da Deadly Hallows mmg tade tndingn punyelah! Haha.
Ta sngke yg Ron Wisley ske dkt Hermoine Granger. Shock laa juge.. Yg mau tgk crite ni, BEWARE.
Ad part2 yg 'dangerous' sikit..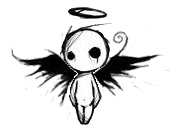 glitter-graphics.com
huhuhuh. Akhir2 crite.

Ermm...3/4 akhir crite..
Waktu nengok crite Ngangkung..adelaa sorg minachi nih...aq tgh syok2 feeeelll crite tu die ley gelak2 ckp2 jerit2 dlm panggung. Skali pndg mcm bdk jakon ta pena gi wayang... Blkg kakak aku pulak...ade org bapok kot...aq ta kesahlah kalo org tu na gelak or what...tp si bapok nan si jakon ni mcm brpadu tenaga gelak2 jerit2 dlm panggung thu x? sengal gler!!
Lps tgk Harry Potter, aq jln straight gi tandas. Aku pun tunggulah turn aq na msk tandas. Pastu....
ade plak lg sorg minachi ni..Die punyelah tolak aq dlm tnds tu. Ish!
Aq terhalang jln die sbb aq pun tgh dihalang sbnrnyer..lps tu, die x semene2 gi tolak aq lak. Sengal kau! grrrr!
After that, gi MPH.

Beli lg buku Robert T. Kiyosaki! XD
Retire Young Retire Rich dgn Guide To Financial Investment. Suddenly mak aq mrh2 plak.
Die kate awt beli buku yg tade faedah sgt bg bdk cam aq ni..Hey...It's MY money k?
Aq bknnye gune duit die. Itu duit yg aq usahakan slme ni a.k.a. duit aq seniri k?
(usaha apa ta prlu tau ye? hue...) It's my life n it depends on me to read what book.
Mum slalu suruh bce buku novel english. Dh lah mhl! X brbaloi plak uh...bknnye boleh tlg aq ape2 pun...
I hate novels nowadays u know? It is so...like...fantasy-much? Hello people! Ni realitilah!
Kbykn novel skrg mmg..urm....trlebih-khayalan?
BTS. Stop by at McD's. Bought McFlurry n jippy jippy off to home.
p/s: malam ni gi ICT kot...yelah..older sis ta pena gi ICT lg...saje ajak die skali.. esok die dh nk balik kolej..